Our feature series kicks off with one of our favourite photographers, Marvin J. Lee, who gives us an insight into his filmic approach to photography.
What is your back story? Tell us a bit about your life.
I am the second son of Korean immigrants of the U.S. I grew up in Colorado where I spent most of my early upbringing. I then moved to So. Cal and lived there for 16 years. I am now based in Las Vegas. I travel a lot and usually I'm somewhere between So. Cal, Las Vegas, and Colorado.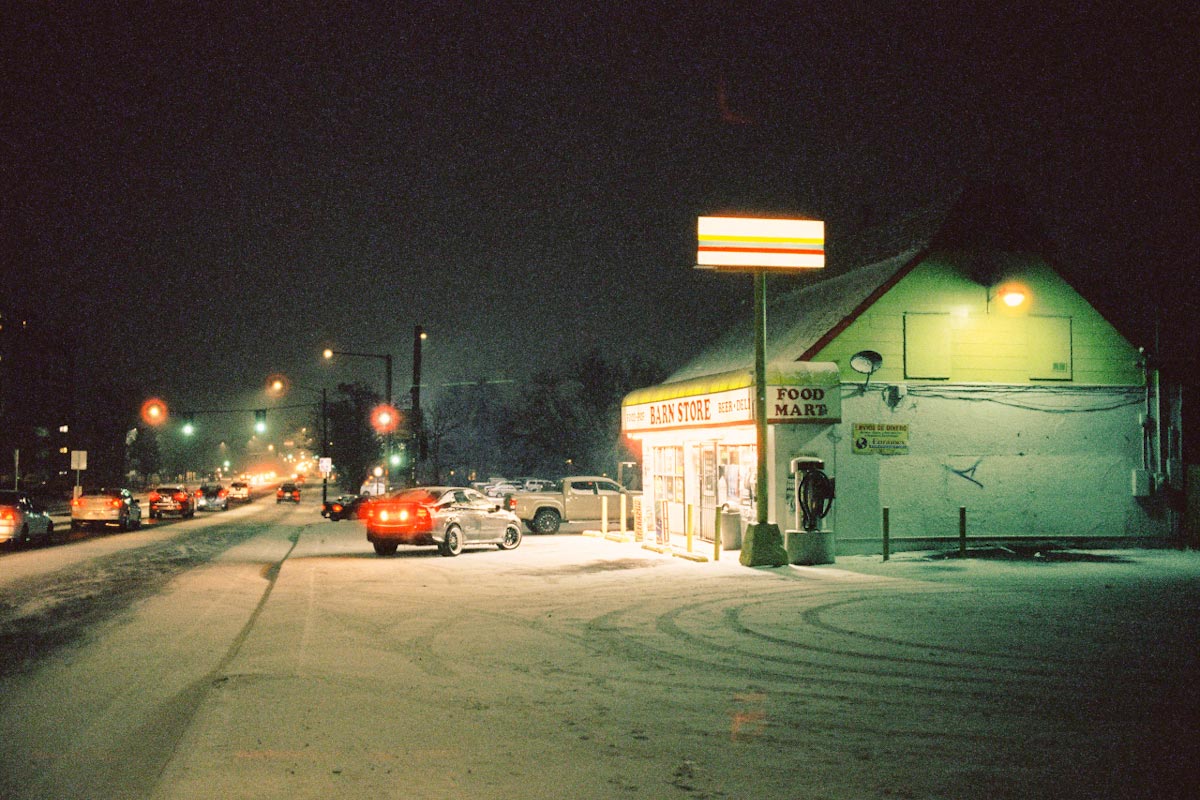 Denver, Colorado // November 2020
How did you get into photography?
I studied photography in film school. One of the first classes I took was storyboarding and the assignments were to create a storyboard for a short film using a 35mm SLR film camera. This was basically my foundation in learning everything about photography, camera, exposure, lighting, and visual storytelling.
After college, I began working as a Visual Effects Artist for major motion pictures that lasted 7 years.
While I worked in VFX, photography was a hobby that supplemented my creative career. After I retired from VFX, and took a career turn, I stuck with photography as a creative outlet. And since 2018, photography has been my main artistic medium.
Venice Beach, Los Angeles, CA // July, 2020
Where do you draw inspiration from?
I studied film so naturally that is where I gravitate towards. My favorite film subjects were usually dark and moody, and that often translated into my photography work. I'm particularly interested in American director, David Fincher, and Korean cinema film director Park Chan Wook.
These days I find a lot of inspiration in Instagram's massive photo community.
Can you give us some insight on why you like shooting in low light?
Shooting at night allows me to focus on mood. Oftentimes I delve deep into my past to conjure up this feeling. My life wasn't always bright with sunny days, and the darker times in my life weigh heavily on me. These experiences will never be erased, rather they point towards a deeper understanding of myself. By doing this type of photography, I feel rewarded for being in the dark, instead of dwelling in loneliness and despair.
Are you an impulsive or planned shooter?
Not a whole lot of planning, but not quite impulsive either. I won't know anything until I arrive at the location because most of the planning gets thrown out of the window by the time I hit my first click.
Finding good locations with dramatic lighting is key. I have a mood or concept in mind as far as pre-production, and then go out and explore. After I shoot my images, I hone in on a mood with editing.
San Francisco, California // July 2020
Please note that some of these are Amazon affiliate links that help to support the running of this site.
How do you achieve the look in your photos?
Usually I try to get everything done on location and not rely too heavily on editing. My background in film post-production has nurtured my process from start to finish and ultimately every choice I make almost always impacts the story. Sometimes less is more while other times it makes sense to push the boundary. The final image almost always reflects my mood or a feeling that I'm connected with.
Lightroom is my primary editing software and I use that to correct exposure and color grading.
What advice would you have for people getting into photography?
In the beginning I think it's important to experiment and to see what works for you. It's also a great idea to emulate work from other photographers you admire and let your curiosity discover different ways to express yourself. Narrowing your focus too early might limit some possibilities but at the same time, it's important to find your creative voice.
Trial and error is an ongoing process no matter what level of experience. In time you'll know yourself better by way of connecting with people who enjoy your work.
How has Covid-19 affected your photography?
For me personally, I think I've adapted. I realize we're facing a trial with unforeseen consequences, but that doesn't mean creativity should stop. I decided to change things up a bit. I'm here in Colorado working on my first zine. This project will be a great time stamp. If anything, the pandemic has allowed me to make this project personal. Winters in Colorado reminds me of my upbeat youth and I think it would be great to discover a bit of winter nostalgia.
Las Vegas, Nevada // May 2020
What are your thoughts on Instagram and its algorithm?
The algorithm is here to stay and that's not any of my business while sharing work that I'm passionate about is. Tech has its own agenda, but I feel that its more good than bad. Instagram provides the platform for anyone to become a photographer and grow their following. If you are passionate and committed to your craft, everything else will follow. I like to believe that I'm in control of my creative progress. Its just that online is oversaturated with talent and it is increasingly difficult to carve out your path. But nevertheless, its still up to you.
Thank you for taking the time to speak to us Marvin. Do you have any final comments?
Huge thanks for inviting me to be part of your project. It's an honor and privilege to be able to share my work and represent who I am through this.